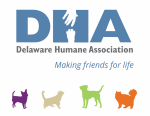 Forever Media loves pets! That's why we've partnered with Concord Pet Food & Supply to bring you our Pets of the Week. Each week, we'll show you a cat , dog or furry friend from the First State Animal Center and SPCA. FSAC-SPCA.org  Call after 10:30am: 302-943-6032!
WEDNESDAY WONDER PET WITH CONCORD PET
Say hi to Lily, Lily is a lovable dog that enjoys a quiet home with one or two other people. She seems to enjoy older people who are settled, with no children. She loves to lay around and get petted and hugged! She plays with chew toys, but won't fetch. She loves to be outside, and play with other dogs, but likes bigger dogs. She wants to play with cats, but is a bit too rough for them. Lily knows how to sit and shake, and is working on learning to stay. She sleeps in her crate, and goes in there to feel safe. Lily is a little food aggressive with food that falls on the floor, and sometimes with her bowl.. Call after 10:30am 302-943-6032.
Thanks to Concord Pet Food and Supply. CONCORD PET, WITH 19 LOCATIONS ALL ACROSS DELAWARE AND EASTERN MARYLAND THERE IS BOUND TO BE A CONCORD PET FOOD AND SUPPLIES NEAR YOU! https://concordpetfoods.com/
Please have your pets
spayed or neutered!