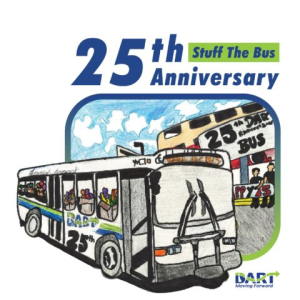 Join Forever Delmarva and DART First State, in partnership with the Food Bank of Delaware, for "Stuff The Bus" 2022, the 25th annual Thanksgiving Food Drive! The DART First State "Stuff the Bus" food drive annually collects tons of food for Delawareans in need thanks to the generosity of the public, including several schools and businesses.
Start collecting your non-perishable food items and bring them to one of our locations:
Monday, November 7th from 9 a.m. to 4 p.m. with Delaware 105.9 at Safeway Rehoboth
Tuesday, November 8th from 8 a.m. to 6 p.m. with Eagle 97.7 and Chicken 101.3 at Safeway Dover and Walmart Milford
Help feed many people in need this season by donating non-perishable items, all of which will be donated to our local Food Bank of Delaware. The Food Bank of Delaware is a nonprofit agency working to end hunger in Delaware. Each year the Food Bank's network of Hunger-Relief Partners receives more than 900,00 visits.
Suggested Items:
Cornflakes
Toasted Oat Rings
Powdered Milk
Parmalat Long Life Milk
Evaporated Milk
Swiss Whey D-Lite
Apple Sauce
Pancake Mix
Macaroni & Cheese
Beef Stew
Spaghetti Sauce
Spaghetti Wheels
Chicken Noodle Soup
Peanut Butter
Pancake Syrup
Chicken & Dumplings
Canned Tuna
Pork & Beans
Mixed Vegetables
Sweet Potatoes
Instant Mashed Potatoes
Sliced White Potatoes
Whole White Potatoes
Whole Kernel Corn
Cut Green Beans
Garbenzo Beans
Navy Beans
Pinto Beans
Kidney Beans
Jams, Jellies, Preserves
All other soup/stews
All other canned meats
All other canned vegetables
All other canned fruit
Cooking/vegetable oil
Laundry detergents
Paper products
Diapers
Personal care
Please note that the Food Bank cannot accept hard candy, lollipops, soda in cans and bottles, chocolate bars or pieces, gum and soft candy such as marshmallows, caramels, taffy, licorice and gummy items.